Happy Australia Day  2017.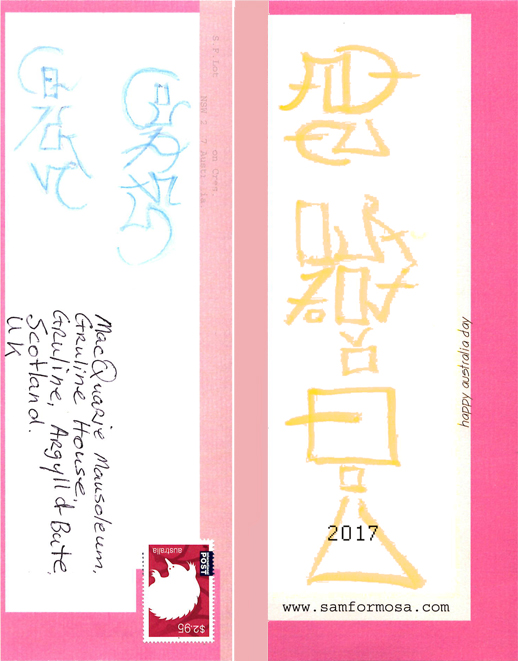 The front panel left, and back panel on the right.
Sam's script in this instance is read vertically.
Musical chord, B(6)-D(2)-F(3).
The card is in B, colour in fuchsia. The front script, is the recipient title and is in D, colour in aqua.
The back script, is in F, colour is  in orange and reads ' Hap-py  Aus-tral-ia  D-A-Y'.
Any day could be a happy day, and every country has their happy day. So let us celebrate all of them.
also this year,
 9 October World Post Day 2017
The main focal point for 2017 Winding Roads Project will be 9 October World Post Day.
+++++++++
2016
The inspiration of this work, came from the idea of the Silk Road. The beauty is that winding roads are full of surprise.
Project.
This is series of nested and overlapping annual art project. Each subject is represented by a road. For example, one of my interests is historic places and spaces. I plan a map journey that takes the form of a  traveling tour.
There are many untold number of people around the world who put their time and energy to preserve these historical sites for as all.  So, in my way of given recognition and to highlight their cause I sent, one of my musical cards to these historic places.
There are two fundamental panels on each musical card. The front panel, (which is where the address is) in Sam's (my) script with a brush and acrylic paint,  painted the recipient title. For example, if the recipient is 'Chartwell', the script also reads 'Chartwell'.
Musical cards.
One way of visualizing these cards is as 'musical card'. If one was go to P4 Music Play on this site, it gives an explanation of the musical card colour outline.
As this is an annual project, last year chord was of 'sol' G, that is the card was yellow.
If we take last  year 20015, the last digit 5 (note G) is taken as the indicator of the chord, staring from the middle 'C' as one, and 5 as the dominant of 'C'.
The major chord of 'G7'  which is made of G-B-D and F, ( keep the middle 'C' as number one) we have G'5'- B'7' , D'2'  and F'4'.  The front panel script was in 'F' and the back panel was in 'D'.
This year I simplified it to just 3 note chord, that is 2016. The 6 is  note La 'A'  indicated by lime green , subdominant is 'C'  indicated in  ultramarine blue and dominant 'E' which indicated in red. The colour of the musical card indicates the musical chord and the year.
The blacks and the whites are considered as neutrals, and the greys are considered as a form of self-interpretation.
Global Tour.
So far, since the inception of Winding Roads, these musical cards have been posted to more than 115 countries.
A quick imaginary bicycle tour will go something like this. From a starting point, let us take Australia in this instance, From Australia, to Indonesia, Singapore, Japan, China, South Korea, and a passage to India. Then, across the Arabia to Turkey.
From Turkey, then following the Indian Ocean coast of Africa all the way to South Africa. From South Africa, following the Atlantic coast and central of Africa to ending up in Morocco. From there, across to Britain for a cup of tea. On the bicycle again, across the English Channel, then crisscrossing all over Europe and to Russia. From Russia with love to Alaska, North America to the Caribbean's and down to Argentina. A quick to swim across New Zealand, and back to Australia.
I imagine this is one way of imaging the Winding Roads Project.
The Winding Roads Project is more about one's personal imagination and taking their own personal tour. We are all gifted with imagination, and as they say, "use it or you lose it."
It is important to note that, the musical card recipient is receiving the original art work, and not a copy. Furthermore, it is only sent once to an individual or location.
Thanks to all those who participates.
 9 October World Post Day 2017
The main focal point for 2017 Winding Roads Project will be 9 October World Post Day.
To contact Sam Formosa email mail@samformosa.com
Copyright 2017.